"Forschung über/für/durch Kunst | Kunst über/für/durch Forschung" (Florian Dombois)
Artistic Research in Literary Studies recognises literary practice and academic research as two related modes of being in and with the world. While literature creates new insights and knowledge through fictional ways of world-making, the study of it becomes artistic once it follows the material processes of experience and practice typical of literary production.
At the Institute of Modern English Literature, Artistic Research in Literary Studies serves as prime method and model for cutting-edge research and teaching across the historical range of English literature from 1550 to the present.
Artistic Research in Literary Studies is grounded in (a) creative practices of writing, in (b) methods of reading writing scenes as well as in (c) concepts of literary work and labour.
Creative Writing Exhibition
Writing practice, Poets' night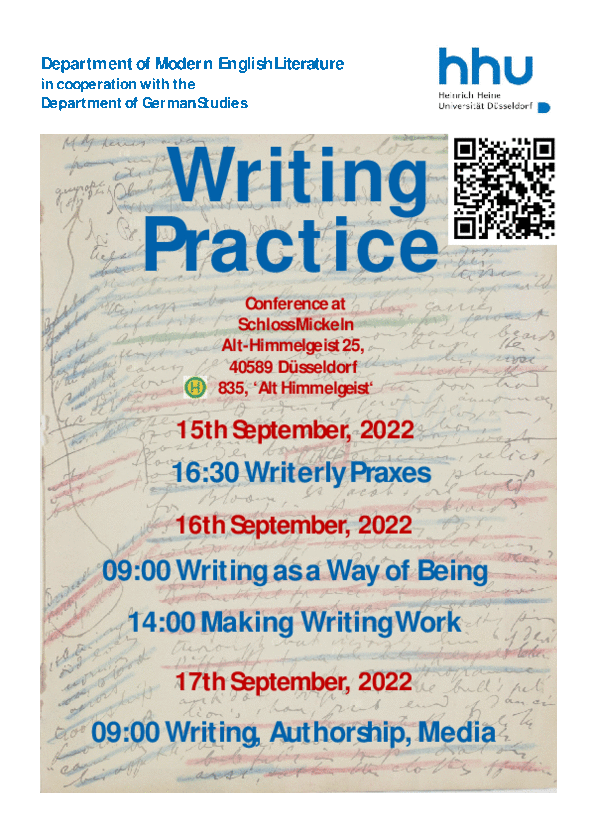 Climate Stories: Everyone has a Story to Tell About Climate
Everyone has a story to tell about climate: whether we take a political stance on global warming or whether we wonder about the increasingly unpredictable weather in everyday conversations, whether we are scientists dealing with empirical data and so-called hard facts or whether we are readers and writers imagining the fictional worlds of literary artefacts, we are surrounded by stories, and increasingly by stories about climate and its effects upon the earth and upon our human ways of being in the world.
Stories are more than a fanciful creation of a creative mind. Indeed, it has become commonplace to assume that literary texts appear in immediate and often contested relations with their historical, political, social and cultural contexts; these texts may explain the world-as-is to their readers or they may imagine new worlds yet-to-come; they will draw on lived experience as much as on facts, which they relate through a broad repertoire of poetic and aesthetic devices.
When it comes to climate and climate change, this unique world-making potential of literature has gained new and ever more pertinent relevance. Indeed, the practices of storytelling are currently being re-evaluated for their political and ethical merits: as communicative devices, they open up critical inquiries, firstly, on how to tell stories of climate change that make scientific facts accessible to a wider audience – and, secondly, on how aesthetically meaningful stories may exceed the textual realm and initiate action.
Poet and climate activist Dr Sally Flint (University of Exeter, GB) operates on that very threshold: her forthcoming collection, There is No Planet B, is inspired by her close collaboration with climate scientists and emerges in curious dialogue with their findings. Each piece is prefaced by a snippet of scientific information, from which the poet spins her poetic stories on climate and climate change. This unusual approach results from Dr Flint's longstanding involvement with the project Climate Stories (http://climatestories.virb.com/the-idea), a collaborative venture between arts practitioners, climate scientists, and members of the community in Exeter and the greater Devon area. Aiming to facilitate storytelling on climate, the project has featured workshops on creative writing, songwriting, and visual arts, encouraging participants to step out of their comfort zone and create their own stories, poems, songs, or images (results have been published with Riptide in a collection titled Climate Stories in 2018).
Dr Flint leads the creative writing strand of the Climate Stories project. Working in dialogue with climate activists from various domains has decisively influenced her own much-acclaimed poetry, which has appeared in numerous anthologies as well as in two collections, titled Pieces of Us (Worple Press) and The Hospital Punch (Maquette Publications).
This winter term, she has joined us to share her outstanding expertise in a two-day workshop on creative writing (29-30 October 2019) at Heinrich Heine University and in a public reading (30 October 2019) at Haus der Universität. The workshop led a group of sixteen committed participants to develop their own climate stories from visual and textual as well as scientific prompts. Composing poetry and prose from these materials, the participants learned how to create poetic images and fictional characters, to imagine setting and atmosphere of their fictional worlds, and to perpetually develop and refine their pieces.
In a public reading on the evening of 30 October 2019 at Haus der Universität, these topics were explored in more detail, when Dr Flint presented some pieces from her forthcoming poetry collection to an audience of students, staff and members of the public. Her work sparked a lively exchange about writing poetry in times of climate change and about the controversial role of literature and storytelling in raising awareness and initiating political change. The evening concluded with some examples from Dr Flint's earlier poetry collections of nature poetry.
Dr Flint's visit inaugurated many creative projects among workshop participants, which may be published in the spring 2020 edition of the Riptide Journal, with a focus on climate. Her expertise greatly enriched the focus on Artistic Research launched in 2017 by the Institute for Modern English Literature. Creative writing, as this event has emphasised, is an apt didactic tool for refining an understanding of literary artefacts and for further promoting critical reading practices. The pertinent topics of climate and climate change stress the political and cultural relevance of reading and writing for making sense of our world and our human ways of being in the world. Further to this, and in collaboration with secondary schools in Düsseldorf, workshop participants may themselves be guided to lead small groups of pupils to tell their stories of climate change and to underline the role of literature and storytelling in everyone's everyday lives.
Dr. Sonja Frenzel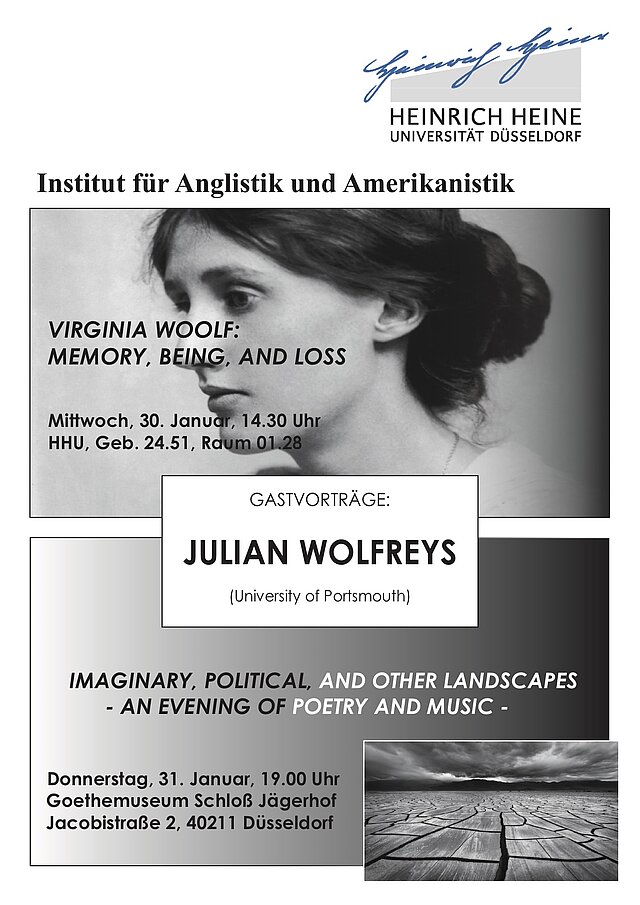 30TH JANUARY 2019 AT 2.30PM
VIRGINIA WOOLF: MEMORY, BEING, AND LOSS
Guest Lecture
Location: HHU Campus, Building 24.51, Room 01.28
31TH JANUARY 2019 AT 7PM
IMAGINARY, POLITICAL, AND OTHER LANDSCAPES – AN EVENING OF POETRY AND
MUSIC
Reading + Performance
Location: GOETHEMUSEUM SCHLOß JÄGERHOF, JACOBISTR.2, 40211 DÜSSELDORF
Professor Julian Wolfreys (University of Portsmouth) is the author and editor of numerous scholarly books on nineteenth- and twentieth-century literature and literary theory, including, most recently, Haunted Selves, Haunting Places in English Literature and Culture: 1800-Present (2018). Among his other publications are two collections of poetry as well as a widely acclaimed novel, Silent Music (2014). Last but not least, Julian is also a musician, working as a solo performer and as part of a duo.
30TH OCTOBER 2018 AT 7PM
BLOODLINES: POETRY AND MEDICINE
Reading: Andy Brown (University of Exeter)
Location: GOETHEMUSEUM SCHLOß JÄGERHOF, JACOBISTR.2, 40211 DÜSSELDORF
On Tuesday, 30 October 2018, ANDY BROWN (EXETER), a well-known poet, poetry commentator and academic, will read from his latest poetry collection, Bloodlines, and talk about the ideas and images that
underlie his creative work. You are warmly invited to join us!
ROUNDTABLE: KREATIVE WEGE | CREATIVITY AS CAREER
18TH MAY 2018 FROM 6-8PM
KREATIVE WEGE | CREATIVITY AS CAREER
Roundtable with Tom Drury (author), Anja Fröhlich (author), Grit Krüger
(auhtor) and Saxa (word artist).
Location: HAUS DER UNIVERSITÄT (ROOM 4), SCHADOWPLATZ 14, 40212
DÜSSELDORF
The Roundtable "Kreative Wege | Creativity as Career" will be a part of the newly inaugurated creative writing track of Ang IV. The event gathers the authors Tom Drury, Anja Fröhlich and Grit Krüger as well as the word artist Saxa (Sascha Lehmann), who will share the stories of their - often winding, but always inspirational - paths into creative careers.
Creative Writing (Story Telling)
Reading Writing Scenes
Literary Work

Creative writing as a cultural technique shapes our modes of thinking and our modes of being in the world. It translates corporeal experiences and practices into words and makes them sharable.

Storytelling, in particular, bears the potential to imagine alternative worlds and to generate new knowledge about what it means to be human. Literary scholars, in turn, respond to the poetic qualities of stories and to their affective capacities.

Creative writing offers ways to experience, first-hand, the practical challenges of developing character, voice, setting, and of developing a story. Experimenting with writing strategies can facilitate critical response to literary works and to theories of literature alike. Creative writing introduces an artistic stance to literary studies and includes new ways of knowing by way of literary artifacts.

This project follows fictional and non-fictional actors by exploring how authors, readers, and characters situate themselves in literary space and place; how they attune themselves to aesthetic rhythms and speeds; how they interlink signs with bodies, discourse, matter, and technology.

Reading Writing Scenes includes an ethical perspective on literary fiction, because it focusses on the responsibility for the attitude and conduct best attuned to this reader-writerly mode of existence.

This pillar of Artistic Research is closely connected to textual scholarship, genetic criticism, the history of knowledge, science studies as well as to research in the field of media theory and media history.

          

What kind of work or labour produces literature? What kind of work or labour is produced by literature?

This project pursues two central aims: firstly, it investigates how verse and prose writings from different historical periods imagine, model, represent, describe, or re-invent practices that can qualify as work or labour. Secondly, it examines ways in which literary activities have themselves been conceived of as work or labour.

Concentrating mainly on the long eighteenth and nineteenth centuries, these investigations seek to contribute to an ecological anthropology of literary work. Authors that are of particular interest include William Wordsworth, John Clare, and Thomas Hardy.
Winter 2022/2023
Writing at Risk + Writing Solarpunk (MA), Dr. Sonja Frenzel
Writing Theory: How Writers Appear in Writing (BA/ MA), Uni.- Prof. Dr. Lüdeke
Original Screenwriting: An Introduction (BA), Tobias Bräuer
Ecopoetics and the Capitalocene (Creative Writing) (BA/ MA), Katharina Maria Kalinowski
Writing Place (Creative Writing) (BA), Katharina Maria Kalinowski
Summer 2022
Writing Forward + Creative Writing Workshop (MA), Dr. Sonja Frenzel
Scenes of Writing: how writers write (BA/ MA), Univ.- Prof. Dr. Lüdeke
Deconstructing the Biopic: Real Life as Fictional Retelling (BA), Tobias Bräuer
Reframing Fidelity: Introduction to Film Adaptation (BA), Tobias Bräuer
(Creative Writing Seminar) Clans: stories about clan mentality, exclusion, racism, and other -isms (BA), Matthew Lawrence Garcia
Winter 2021/2022
Rooms of Whose Own? Androgynous Writing Spaces (MA), Dr. Sonja Frenzel
The Art of Original Screenwriting: Creativity, Inspiration, Originality (BA), Tobias Bräuer
Writing Authentic Dialogue: Unique Characters, Distinct Voices (BA), Tobias Bräuer
Creative Writing Seminar: Altered Consciousness: writing mental illness, substance abuse, and mysticism (BA), Matthew Lawrence Garcia
Summer 2021
The Adventure of Writing (With) Literature (MA), Dr. Sonja Frenzel
Aesthetics of Film Adaptation: Rewriting Novels for the Screen (BA), Tobias Bräuer
Fidelity, Originality, Freeplay: Writing Film Adaptation (BA), Tobias Bräuer
Master Poetry Workshop: Voice and Conflict (MA), Dr. Ellen Elder
Creative Writing Seminar: Transgression: invading/crossing lines, personal, racial, social (BA), Matthew Lawrence Garcia
The Adventure of Writing (about) Literature (MA), Univ. -Prof. Dr. Roger Lüdeke
Winter 2020/2021
Fox Stories: HumAnimal Perspectives in Storytelling (MA), Dr. Sonja Frenzel
Narrative Film, Visual Storytelling, Cinematic Techniques: An Introduction to Film Analysis (BA), Tobias Bräuer
Master Poetry Workshop: Locating the Lyric/al (MA), Dr. Ellen Elder
Creative Writing Workshop: Mystery Fiction and the Mysterious (BA), Matthew Lawrence Garcia
Summer 2020
Writers' Lives: Memories of Becoming a Writer (MA), Dr. Sonja Frenzel
Writing Believable Characters: Psychology, Personality, Transformations (BA), Tobias Bräuer
Creative Writing Seminar: The Writer and the Story (BA), Matthew Lawrence Garcia
Master Poetry Workshop: Locating the Lyric/al (MA), Dr. Ellen Elder
Winter 2019/2020
Queer Modernities: Retelling the Story (MA), Dr. Sonja Frenzel
Originality Through Imitation: Writing the Original Screenplay (BA), Tobias Bräuer
Creative Writing Workshop: Genre and Hybridization in the Literary Short Story (BA), Matthew Lawrence Garcia
Summer 2019
Storytelling Revisited: Orality and Literality + Project Module (MA), Dr. Sonja Frenzel
Writing the Feature Film (BA), Tobias Bräuer
Fiction Intensive: Raising Tension (BA), Rebecca Rukeyser
Poetry (BA), Dr. Ellen Elder
Point of View and Voice in the Modern North American Short Story (BA), Matthew Lawrence Garcia
Winter 2018/19
The Art of Verbal Action: Writing Dialogue (BA), Tobias Bräuer
Story-Telling in posthumanist perspectives (MA), Dr. Sonja Frenzel
Writing Character Fiction (BA), Rebecca Rukeyser
Summer 2018
Originality Through Imitation - (Re)writing the Genre Film (BA), Tobias Bräuer
Words and Worlds: Telling Stories of Dwellling (MA), Dr. Sonja Frenzel
Writing The Short Story (BA), Rebecca Rukeyser
Winter 2017/18
Narrative Identity Meets Genre: Writing the Feature Film (BA), Tobias Bräuer
Speaking (of) Matter: New Materialism Meets Creative Writing (MA), Dr. Sonja Frenzel
Summer 2017
Free Play, Palimpsest, Intertextual Bricolage: Writing Postmodern Adaptation (BA), Tobias Bräuer
Winter 2016/17
Writing Film Adaptation: Raymond Carver on Film (BA), Tobias Bräuer
For more information on creative writing in our current teaching and research, please also visit Artistic Research.
"Creative writing makes us wake up to the world around us; helps us understand the nature of people we meet or will never know by name; and alerts us to the intense interplay between language, ideas, and feeling."
The Cambridge Companion to Creative Writing,
ed. by David Morley and Philip Neilsen, Cambridge UP, 2012, p. 2
The Writers' Space seeks to create mental and physical spaces for the literary and artistic practice of creative writing. It is intended for students who want to explore and develop their writing skills, experiment with language, work with the imagination, and learn how to read and edit from the perspective of a writer. Related courses are usually structured around the creative writing workshop, which provides a forum to share and review self-composed writing under the guidance of experienced creative writing staff. The workshop-model further allows for discussion-based study and analysis of the making-of literary examples. Covering a variety of genre including poetry, short story, fiction, non-fiction, we attend to elements of craft, examine narrative techniques and genre conventions, and investigate the myriad of ways in which humans use language to tell stories and make sense of the world.
Students are encouraged to experiment with form and theme, move out of their comfort zones, and take their writing into new and unexpected directions. This will increase the range of possibilities open to them and help them improve their formal and technical abilities. We emphasise writing as an embedded creative process that takes work and time and relies on drafting and editing practices. In addition to providing a space where students can build confidence and grow as writers, the combination of creative practice, discussion, and peer feedback facilitates collaboration, independent and interdisciplinary thinking, and fresh perspectives on existing literary forms. Sustaining a dialogue between the creation of text, reflection, and attentiveness to cultural and critical contexts, the writers' space thus offers a vital link between literary knowledge and literary practice.
Curricular classes are complemented by guest lectures, external readings, and events that offer students the opportunity to engage with the wider writing world and present their work to an audience. Our aim is to foster creative exchanges and generate spaces where ideas can develop from first drafts to mature pieces that will demonstrate a clear grasp of genre, structure, subject, and audience; expressive clarity; critical engagement; originality; and confidence in handling and testing the limits of language and form.
Dr. Katharina Maria Kalinowski